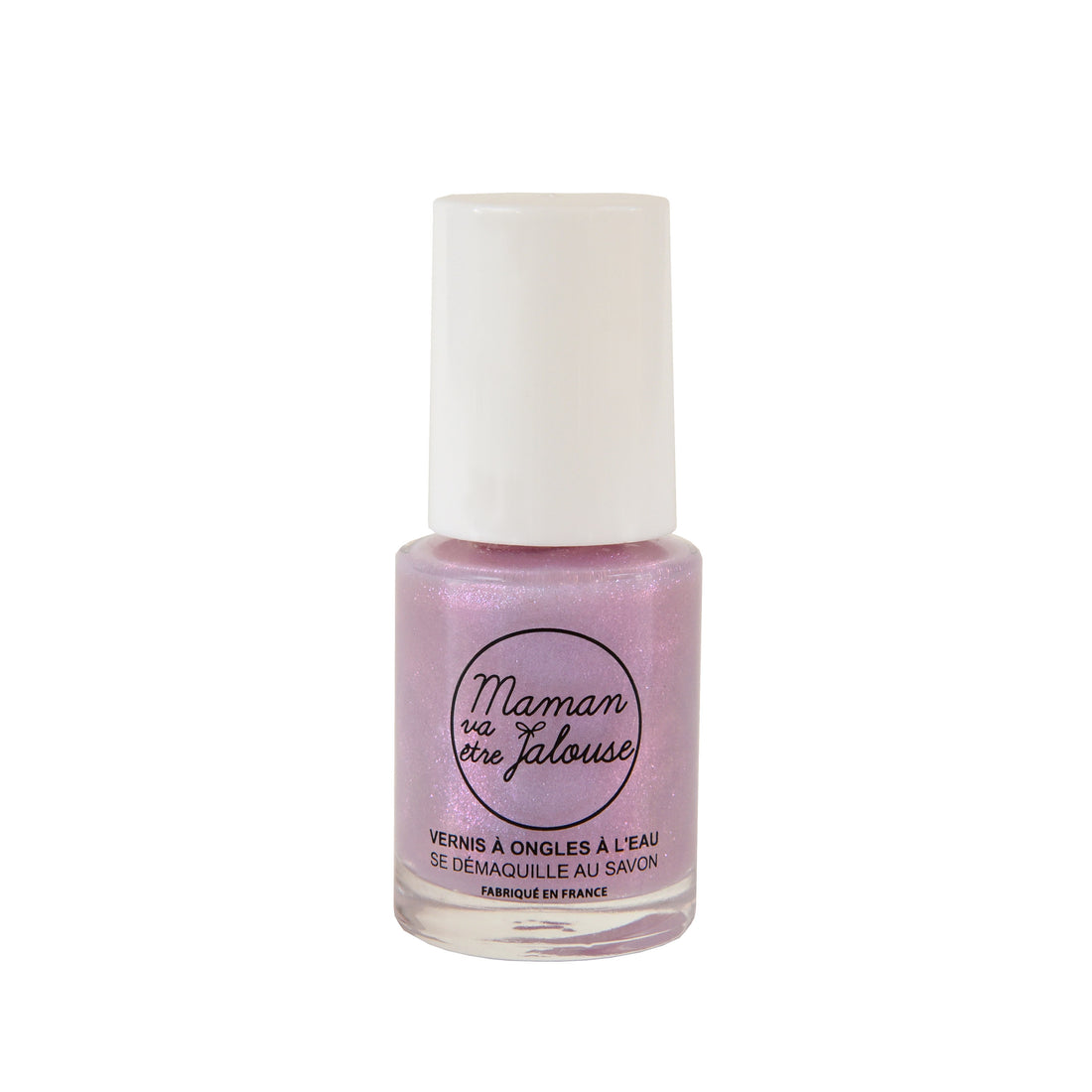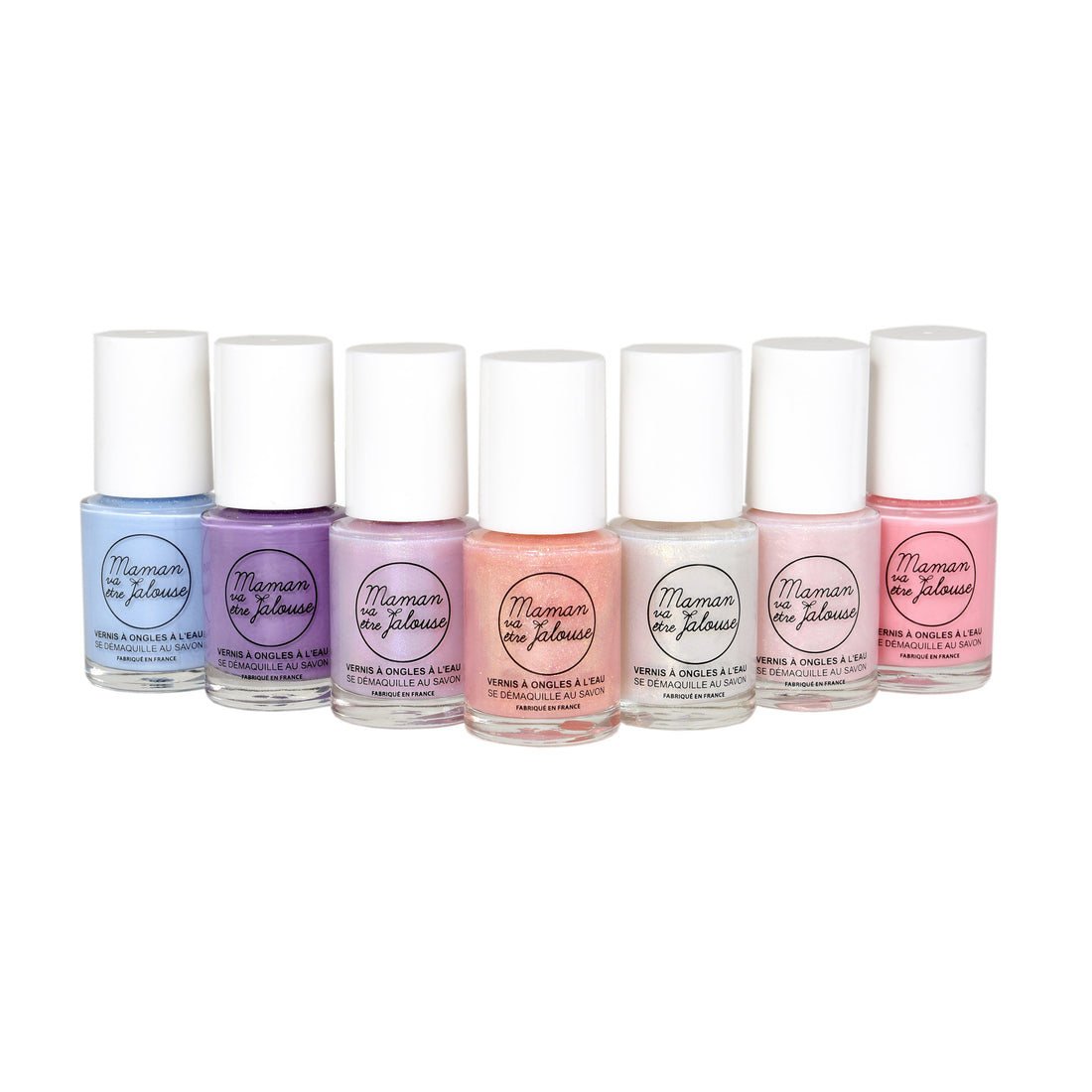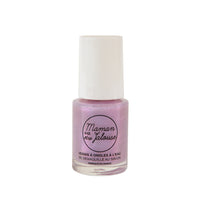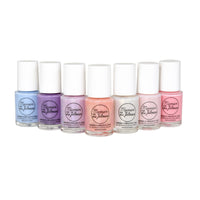 Make-Up That is Safe for Kids' Health!
My Water-Based Nail Polishes
This gentle color of nails polish can be removed easily with water and soap. Our water-based formulas are suitable for children's nails and are odourless. Finally the nail polish is now allowed! Your pretty little girls will love this soft and bright color of the range (9 colors available)!
Made in France, in accordance with EC regulation 1223/2009 CE, with renowned cosmetic laboratories that have all obtained conformity certification meeting the requirements of NF EN ISO 
Tested under dermatological control
No volatile organic solvent
No azo dye
No paraben
No nitrocellulose
No animal raw materials
Easiness of Washing
If the kid puts 1 layer of nail polish and go straight to the bathroom, the polish will go very easily.
If the kid puts 2 layers of nail polish, let it dry as an adult would do and wait the end of the day to wash it, it would need some soap and some scrumping.
In The Box
Water-Based Nail Polish 10ml x 1
Are you going to develop red, fuchsia or orange varnishes, more vivid colors?
No for 2 reasons.
Firstly, our colors are studied to be very transparent and as natural as possible to the result: reproduce the gestures of beauty of mom, yes, but not the result of makeup mom!
Secondly, we do not use azo dyes and these colors are more difficult to achieve without this type of dye.
How to strengthen the hold of your polishes that go to the water?
Apply the varnish in 2 layers allowing to dry well 2 to 3 minutes between each layer.
Finish with a glittery third layer (the gold powder varnish for example): glitter naturally reinforce the performance of your nail polish.
Do not put your hands in the water within an hour.
My daughter spilled nail polish on the bed sheet, how to remove the stain?
Our varnish are easily removed with water and soap. Just dilute the stain and rub lightly to remove all traces of varnish.
About Maman va être Jalouse
Because we all want the best for our children, Maman va être Jalouse, has been created to allow mummies to share their beauty secrets while sharing special moments with their daughters.
All young girls can now learn, like mummy, a good makeup routine, safe enough with special child friendly formulas, dermatologically tested, with delicate and soft colors.
This is the guarantee of high quality and maximum security.
Our products are specially designed for children aged from 4 to 12 with formulas that respect their delicate skin. Our products are free from paraben, volatile organic solvent, nitrocellulose, azo dye and animal ingredient.
A choice of very soft colors for a natural and light result.
Our mission is to provide products that facilitate the safe passing on between mothers and daughters of the good makeup routine.