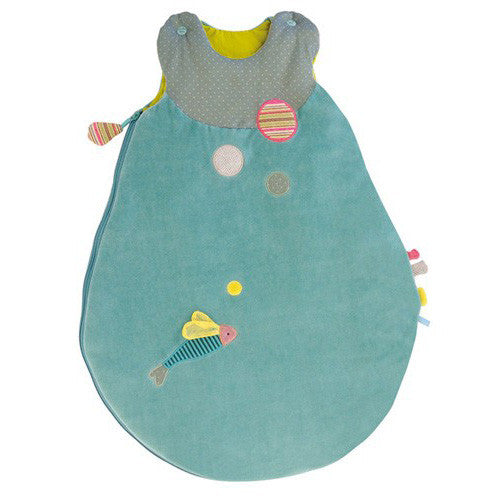 Moulin Roty
Moulin Roty Baby Sleeping Bag 70cm Turquoise - Lpa
Perfectly suited for babies from birth to 6 months, this beautiful sleeping bag in turquoise velvet and jersey with polka dots will accompany baby in its first dodos in the universe of poetry and tenderness that is that of "Pachats" .
Embroidered rounds and striped fish with yellow fins mark the fancy of this article with soft and soft materials to reassure your toddler.
Practical thanks to its wide opening zipped and its 2 pressures at the level of the shoulders, baby will be easily and quickly installed to join the arms of Morpheus.
Moulin Roty put here all its know-how so that baby sleeps at the right temperature. Parents will be reassured and conquered by the quality of this product.
Age : From birth up to 6 months
Height : 70 cm
Materials : Cotton, polyester, elastane, acrylic
Washing Advice : Washing 30 ° cycle wool; No tumble dryer